miKasa is proud to announce the opening of the new miKasa Wellness & Spa Center located at miKasa, in the village.
It offers the most modern Spa equipment, such as a large indoor dynamic salt treated pool where you can enjoy hydro beds, cascades, hydro volcano and much more. Follow it with the sensations tunnel, jet shower, ice fountain, Jacuzzi and hamman with scent of eucalyptus.
There are 5 treatment rooms in our Wellness area, one especially designed for couples where 2 persons can have the treatment they choose at the same time.
We offer the latest techniques in Wellness and Beauty treatments. Try a hot stone massage, facial or an algae wrap or maybe a spicy ginger body scrub.
A world of peace and relaxation awaits for you at miKasa Spa.
FOR RESERVATION
spa@mikasasuites.com
| Tel +34 950138073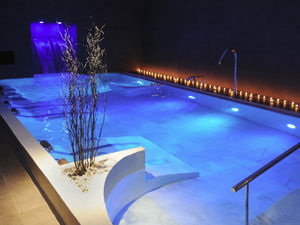 ---
SPA THERMAL CARD- (non-transferable)
| | |
| --- | --- |
| | Price |
| 5 Sessions | 60€ |
| 10 Sessions | 90€ |
| 20 Sessions | 130€ |
| Membership card | 200€ |
Opening hours
11'30 - 13'30
17'00 - 20'30
COUPLES CARD - (non-tranferable)
| | |
| --- | --- |
| | Price |
| 10 Sessions | 150€ |
| 20 Sessions | 200€ |
---
MASSAGES
| | | |
| --- | --- | --- |
| | Lenght | Price |
| Relaxin massage | 50 min | 48€ |
| Back | 25 min | 30€ |
| Scalp - Facial | 25 min | 30€ |
| Foot massage | 25 min | 30€ |
| Pregnancy massage | 50 min | 48€ |
| Gemo - Balance (stones) | 50 min | 63€ |
| Couple massage | 50 min | 109€ |
MASSAGES
| | | |
| --- | --- | --- |
| | Lenght | Price |
| Relaxin massage | 50 min | 48€ |
| Back | 25 min | 30€ |
| Scalp - Facial | 25 min | 30€ |
| Foot massage | 25 min | 30€ |
| Pregnancy massage | 50 min | 48€ |
| Gemo - Balance (stones) | 50 min | 63€ |
| Couple massage | 50 min | 109€ |
---
BEAUTY
Lenght
Price
Basic manicure
20 min
12€
Full manicure
40 min
19€
Pedicure
40 min
24€
Pedicure + Thermal spa
50 min (pedicure)
39€
Waxing (for furher information ask reception)
RITUALS
| | | |
| --- | --- | --- |
| | Lenght | Price |
| Hanakasumi | 75 min | 70€ |
| Indoceane | 95 min | 99€ |
| Indu-Chinese Scale | 90 min | 70€ |
| HematiteGemo Remineralizing | 80 min | 75€ |
---
FACIAL TREATMENTS
| | | |
| --- | --- | --- |
| | Lenght | Price |
| Basic facial | 50 min | 49€ |
| Oxygenating/detox | 50 min | 65€ |
| Revitalizing Vitamin C | 50 min | 60€ |
| Anti aging | 50 min | 59€ |
| Intensive moisturiser for men | 50 min | 65€ |
BODY SCRUB
| | | |
| --- | --- | --- |
| | Lenght | Price |
| Jojoba extract | 25 min | 30€ |
| Cherry blossom (enzimatic) | 40 min | 45€ |
| Thermal salts | 25 min | 30€ |
| Orange blossom | 25 min | 30€ |
| Indian butter | 25 min | 30€ |
---
BODY TREATMENTS
| | | |
| --- | --- | --- |
| | Lenght | Price |
| Feather light legs | 40 min | 43€ |
| De-Contracting back | 50 min | 55€ |
| Karité | 40 min | 48€ |
| Marine renaissance (seaweed wraps) | 65 min | 63€ |
| Energising moisturiser | 60 min | 59€ |
---